Service Brewing presents… Illiterate Light with special guest Basically Nancy, Friday May 12th at 8pm. $10 cover, doors open at 7pm.
Service Brewing presents… Illiterate Light with special guest Basically Nancy, Friday May 12th at 8pm. $10 cover, doors open at 7pm.
18+ // Food Truck Big Dawgs
ILLITERATE LIGHT thrives on subverting expectations. Though just a duo, the Harrisonburg, Virginia based singer guitarist Jeff Gorman along with Nashville, Tennessee based drummer Jake Cochran make surprisingly pummeling and thoughtful alternative rock. Since the band's 2015 inception, they've intently focused on their unorthodox live show with Cochran standing behind his kit and Gorman playing synth bass with his foot as he sings and strums his guitar.
Fiercely egalitarian and independent, the two not only split up songwriting duties and arrangement ideas, they even built bike powered stages: bringing the fans into the live experience and envisioning a greener future for shows.
But with their latest album Sunburned, Gorman and Cochran have turned their attention inward to their songwriting and studio craft. It's their most fully realized and ambitious LP yet, one that's full of immediate songs that update and revolutionize the band's approach to making music. There are rich keyboard and programmed percussion textures now populating their songs, as well as soaringly anthemic choruses, and hefty doses of fuzz. "On our first record, we were very live focused and wanted to make sure whatever we were writing was translated in person," says Gorman. "Without that crutch, we could be more adventurous and take more risks. We definitely weren't timid in the studio."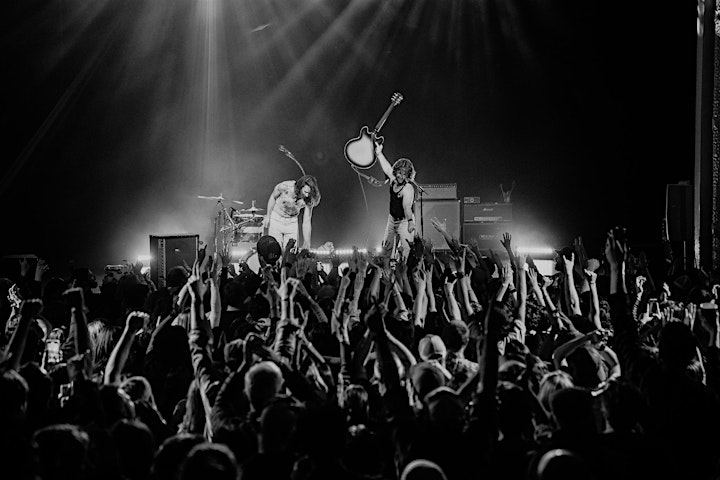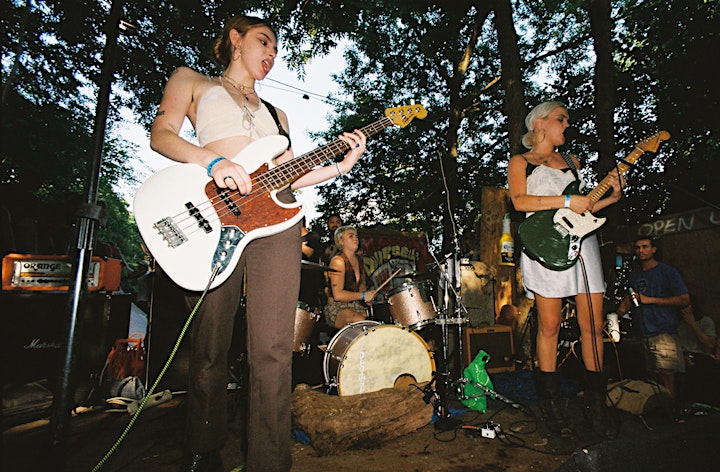 BASICALLY NANCY started playing in bars before they could legally buy cigarettes. The three-piece girl band, formed in high school, were sloppily playing punk covers in venues they couldn't even drink in. Years later the trio now commands a room with their presence of both heavy tones and aggressive lyrics with a combination of melodic sweetness. The members Alayna Bowen (Bass, Vocals), Greta Schroeder (Guitar, Vocals), and Esther Hines (Drums) find pull from bands such as Mazzy Star, Babes in Toyland, The Breeders, and PJ Harvey to create their own energy and sound. Basically Nancy's music portrays the experience of being a young woman and the frustrations that come with it. Their self-titled debut album was constructed over the span of a few years with no original intent of being heard but rather as a collaborative therapeutic outlet. It is an amalgamation of personal stories touching on topics ranging from love and friendship to dissatisfaction and abuse.
Basically Nancy 8pm, 40 min set
Illiterate Light 9pm, 75 min set